Water services
We are a self lay company accredited to undertake water connections by the Water Industry Registration Scheme (WIRS), operated by Lloyds Register on behalf of water utility companies.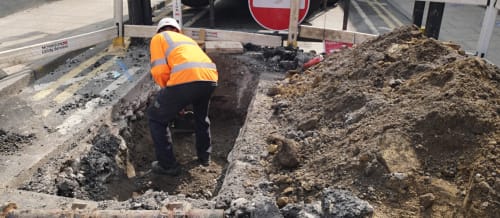 We work across the UK with our customers and water providers to manage projects from initial planning and design to full installation including excavation, backfilling and reinstatement. We provide the full service post installation, as well as pressure testing we do all necessary checks to completion. We'll handle it all so it's hassle free for you.
Our most recent work:
We have been working on the AMP6 for Yorkshire water carrying out clean water works such as:
Lead replacement schemes (moling, kobus and open cut)
DMA works (underpressure drilling, large diameter bypass work, hydrant renewals)
Main laying schemes (open cut, slip line, busting, direction drilling)
Repair & Maintenance (All leakage works days, nights, weekends and standby)
Third party (Diverting water mains, new mains and connections for commercial and developers)
Repair & Maintenance
Our dedicated teams are on hand 24/7 365 days a year for both clean and waste water.